By: alkohol
UPDATED 02-05-2007: uploaded Xenosaga 3 Discs ripkit for download on page 16.
UPDATED 01-14-2007: Tools for downloading (on first page & page 5 now working)<<=== Damn... it sure has been long (1 year LOL) since I rebuild PS2 games.
UPDATED 02-05-2006: guide to rebuild PS2 games using Gnie's ExPERT (on page 18)
UPDATED 01-29-2006: guide for XENOSAGA EPISODE 1, US NTSC version 7.88GB (on page 16)
UPDATED 01-04-2006: full rebuild guide for GRAN TURISMO 4 (on page 5)
UPDATED 01-15-2005: guide To Book Type using Nero Burning Rom (at bottom of 50CENT guide, page 1)
UPDATED 12-26-2005: guide To Book Type using DVD Decrypter (on page 2)
UPDATED 12-27-2005: basic guide for NEED FOR SPEED MOST WANTED (on page 2)
UPDATED 12-30-2005: full guide to rebuild MATRIX PATH OF NEO (on page 3)
OK, I know that there's a lot of guides/methods are posted here on "how to rebuild a DVD9 PS2 games" into DVD5 already. However, seems like some newbies are having troubles regardless of how great those guides are. Here is an "easy/simple" guide, especially for those clueless newbies with Swap Magic.
In this guide, I will use 50CENT BULLETPROOF, since it's 5.95GB and many newbies (Swap Magic users) are having troubles rebuilding or backing up the game and or any games that's over 4.7GB. With that being said, we can't just have DVD Decrypter or Nero to rip and burn onto a single layer 4.7GB. Apparently, in order for you to have a successful backup and play, you'll need to rebuild the game so your Swap Magic Disc can boot it up properly. This is a working method, I've tried and tested the backups and it works!
NOTE: some PS2 games will need to have a special "RipKit/Tool", in order to successfully rebuild and backup. To name a few like GT4, GOW (US) and XENOSAGA Episode 1 (US). These games are totally different and needs it's own "ripkit" to process in order to backup and have a success burned. Additionally, keep in mind that not every rebuild games will GUARANTEE to work 100%, a few will freeze/hang up, black screen, some you'll need to rebuild a few times or burn to different high quality media a few times, etc.
TOOLS NEEDED FOR THIS GUIDE or FUTURE
APACHE 3
rapidshare.com Apache3.exe.html
APACHE 2
rapidshare.com Apache_2.exe.html
Gnie's IML2ISO v4
rapidshare.com gdvd4-iml2iso.exe.html
Gnie's ExPERT
rapidshare.com ExPERT_v1.03.rar.html
CD DVD GEN 1.5
rapidshare.com cddvd_gen_15.rar.html
DVD Decrypter 3.5.4.0
rapidshare.com Set....5.4.0.exe.html
ImgBurn
http://www.imgburn.com/
ISO Buster (Free version)
http://www.isobuster.com/
I highly recommend whoever don't have them yet, grab it before it's gone because it won't be there long.
NOTE: In this guide, I will only use ISO Buster Pro 1.8, CDVD GEN 1.5, Gnie's IML2ISO and Nero Express (Nero 7) to burn. Burning is a choice/preference of yours, so use which ever programs you're more experienced to burn. Of course, I do nearly 50% and 50% on both DVD Decrypter and Nero for the burning process.
Since nearly everyone knows how to rip the game via DVD Decrypter using MODE, ISO, READ R into the hard drive and MODE, ISO, WRITE to burn, so I'll just briefly write for that process for now.
**STEP 1**
- rip the game with DVD Decrypter via MODE, ISO, READ R to your hard drive.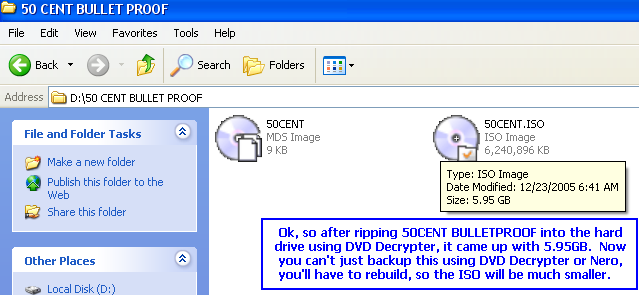 **STEP 2**
- Extract the ISO or files with ISO Buster Pro 1.8 -- now Open up ISO Buster Pro 1.8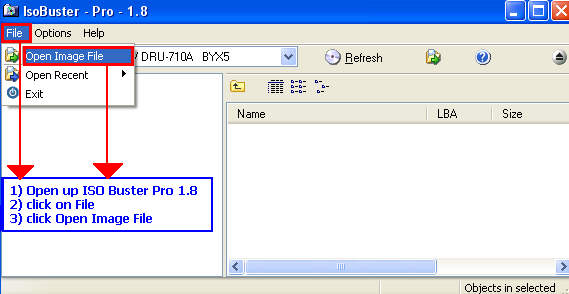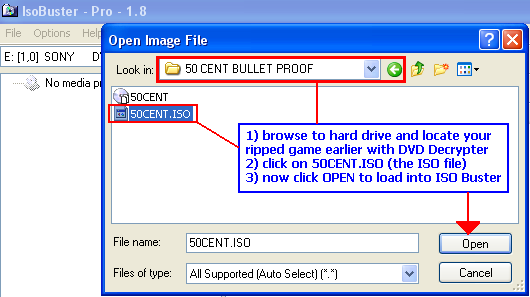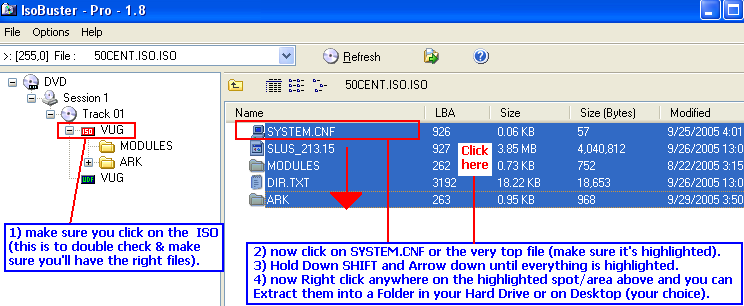 Now make a Folder in your hard drive called ISO BUSTER EXTRACT or something that you'll remember.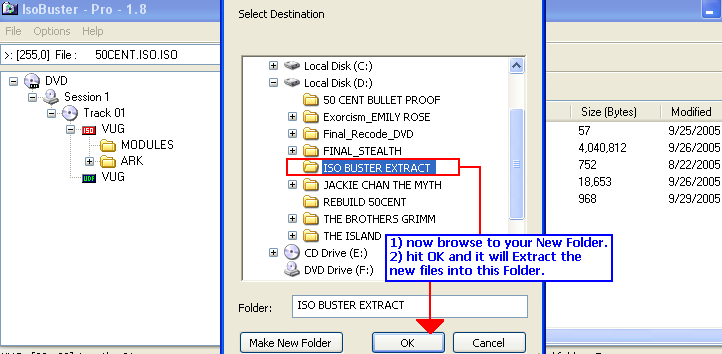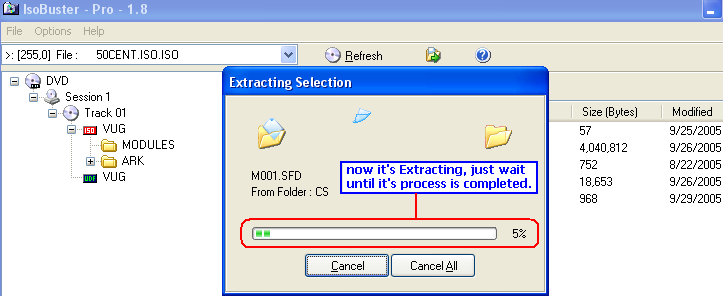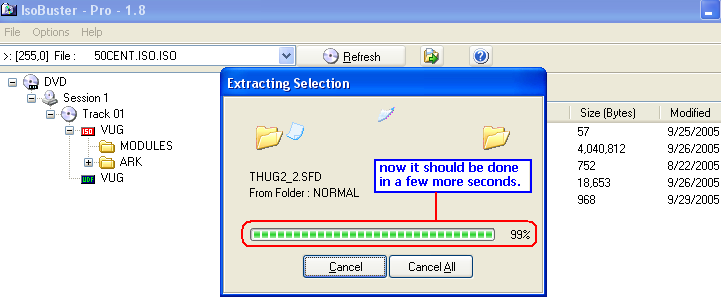 Once ISO Buster is completed, don't close it... leave it open, but just minimize down on your taskbar only because you'll need that for reference to get going with CD/DVD GEN 1.5.
**STEP 3**
Now open up CD/DVD GEN 1.5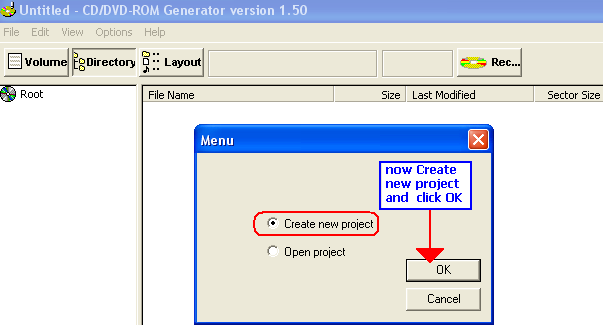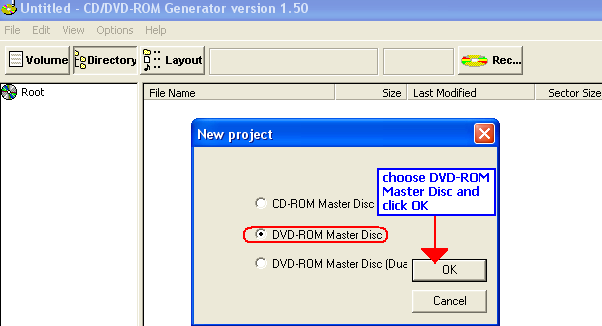 Now bring back up ISO Buster Pro 1.8 again, so you can reference the files in order.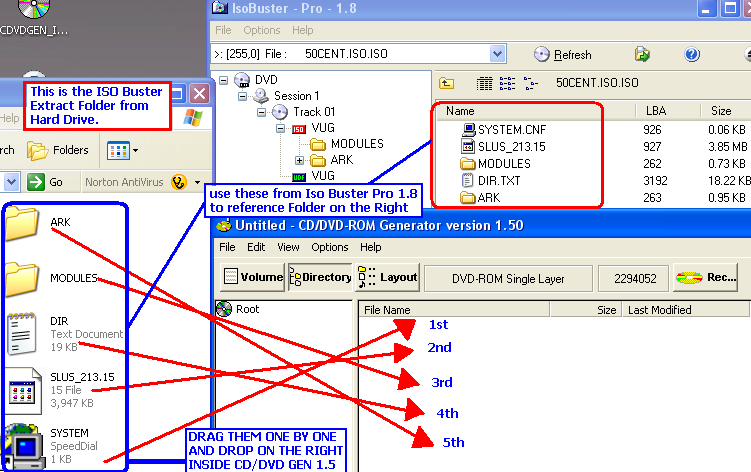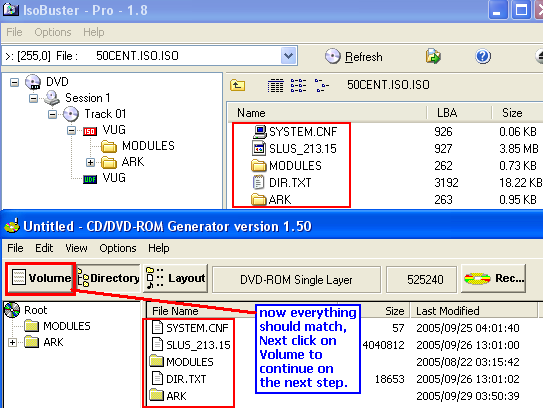 at DISC NAME: put SLUS 21315 (with no period). NOTE: sometimes it will be SLES XXXXX. at PRODUCER NAME: always put PLAYSTATION, at VOLUME: put 50CENT or name of the game, at PUBLISHER: put your name or anything, at LICENSE NAME: America (or wherever the disc/or you're from, so if you're from Europe, put Europe, if you're from Japan, put Japan).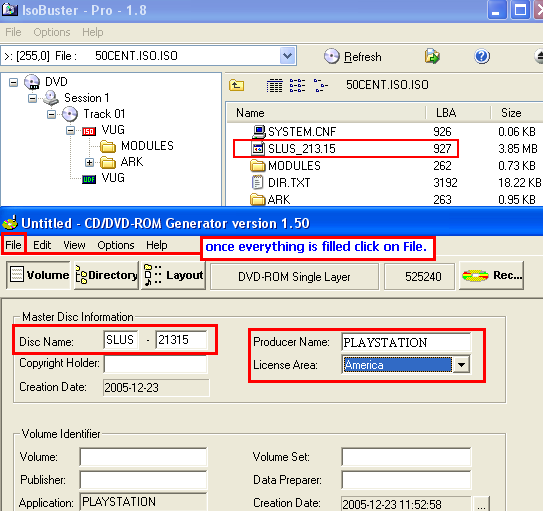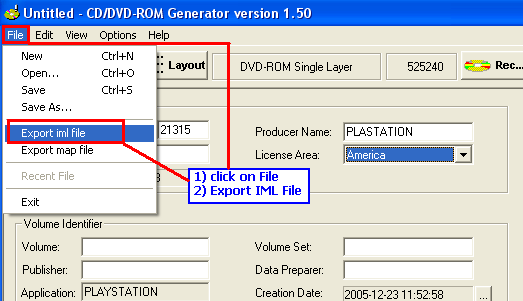 Now go into your hard drive and create a Folder name IML, then EXIT out.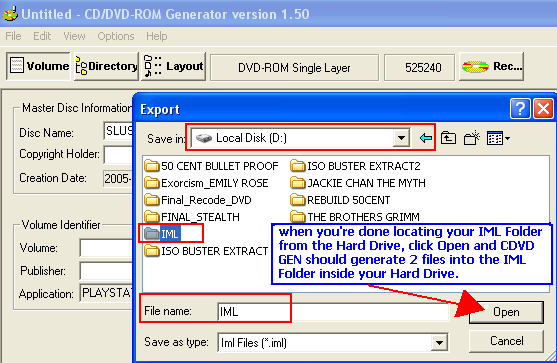 **STEP 4**
Now open up Gnie's IML2ISO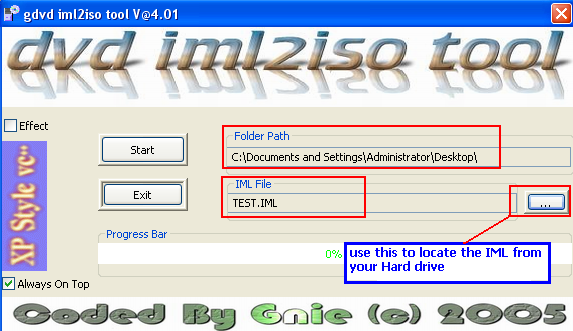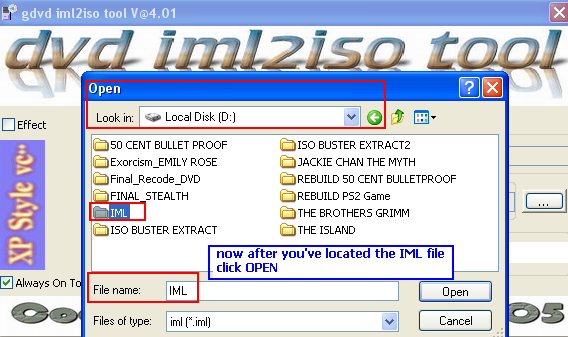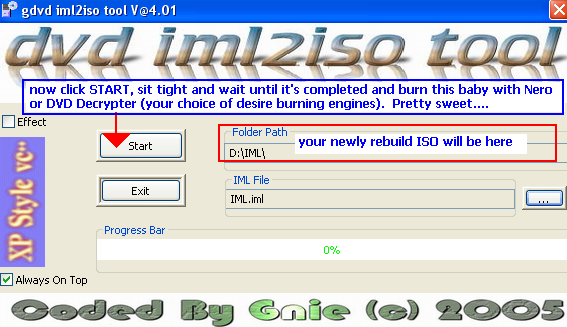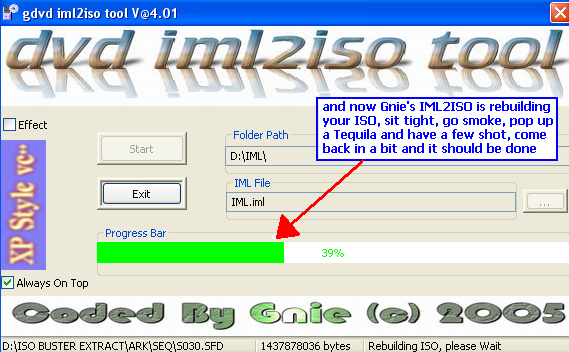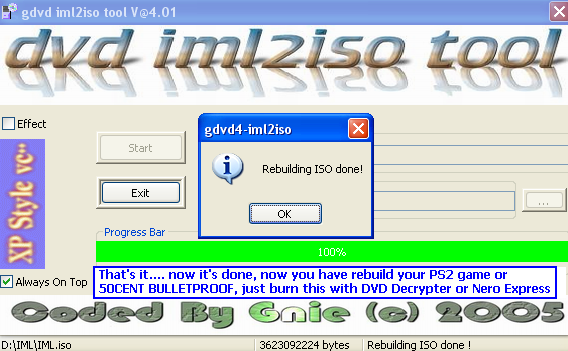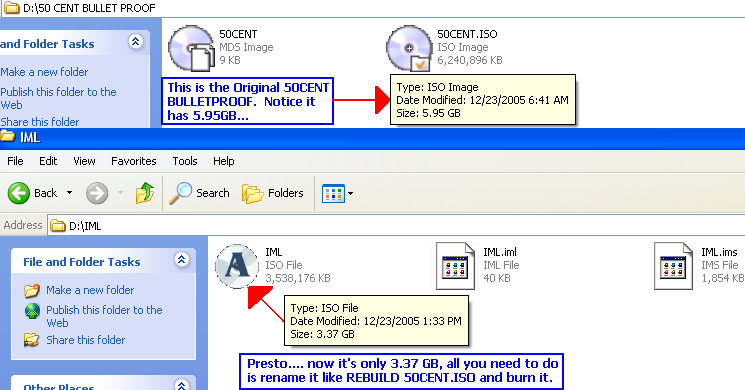 **STEP 5**
Burning the ISO Image, now you can Open up DVD Decrypter, ImgBurn or Nero Express or Nero Burning Rom and burn your newly rebuild game. For this guide, I'm using Nero Express to burn. Why? Because I like the fact that Nero can/will "automatically" set the "Booktype" into DVD-ROM whenever I used a DVD+R media. However, the choice is yours.... I've done both DVD Decrypter and Nero equally, but lately I just don't like to go inside the settings via DVD Decrypter and set the "booktype" prior to the burning process that's all.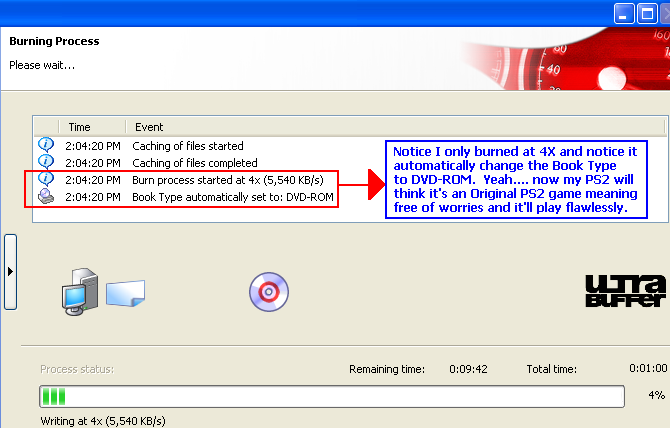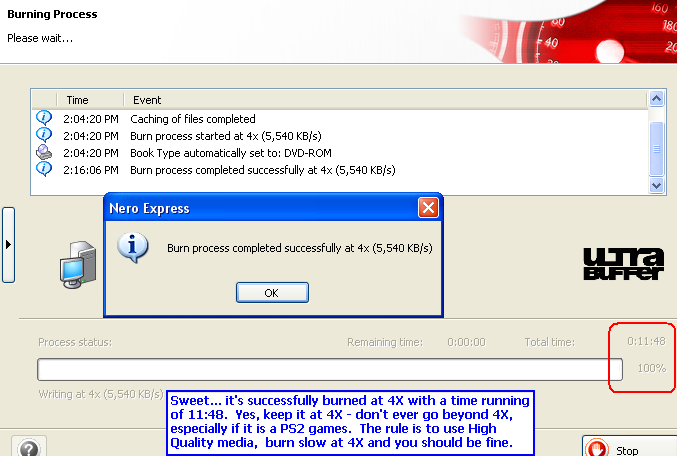 I preferred any DVD+R from Taiyo Yuden, Hitachi Maxell (Made In Japan by Hitachi Corp.) and Verbatim "advanced azo" or "datalife plus" and have them "Booktyping" into DVD-ROM. With booktyping them into DVD-ROM format, you're FREE OF WORRIES... that's right, you hear me, any PS2 consoles will play any DVD-ROM format flawlessly.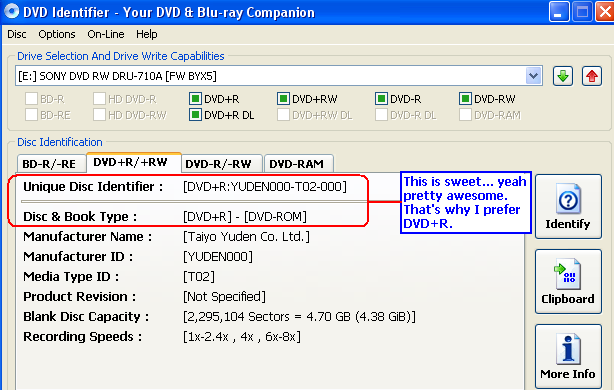 That's it...... now you can pop up a Hennessey or Tequila and play all night long.
NOTE: If you have the following set to "Automatic", then whenever you use Nero Express (for PS2 games or dvd movies), Nero Burning Rom (for dvd movies) Nero Recode 2 & Nero Vision (for dvd movies) to burn, all your backups will automatically set the "BookType" to DVD-ROM if you're using a DVD+R, DVD+RW or DVD+R DL media. That is... if your dvd burner is capable of booktyping.
How to set the "Booktype" or "Bitsetting" using Nero Burning Rom by Alkohol
NOTE: this is just the settings only, it will work even if you burn your PS2 games with Nero Express, it will automatically "Booktype" your DVD+R into DVD-ROM when you're burning with Nero Express or Nero Burning Rom.[/b]
01) open up Nero StartSmart, then click on Nero Burning Rom
02) EXIT out the "New Compilation" when it pops up
03) click on "Chooses A Recorder" (it's a small burner icon next to (I) and the arrow down)
04) click on "Options," then on "Booktype Settings," set to "Automatic" and click "OK" - that's it... easy as smoking. Now every time when you burn using a DVD+R, DVD+RW or DVD+R DL disc, Nero will "automatically" change the Booktype into a DVD-ROM format.